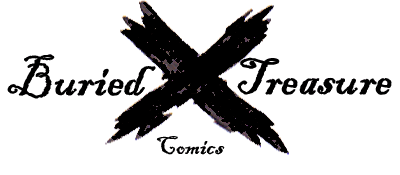 All content copyright©2005 Wicked God Productions & Buried Treasure Comics. Everything else©their respective companies.
Thanos Next up for Marvel Select

If you have'nt heard yet...Thanos will be the next action-figure in Diamond Select Toys' Marvel Select line. Offered in the May issue of Diamond Comics Distributors' Previews catalog (on sale 4/20/05), the Thanos action figure features 14 points of articulation, and even comes with a removable Infinity Gauntlet. Also included is Death, featured as an unarticulated, in-scale companion figure so Thanos can get his freak on with his lady love.
For more of the ultra sweet Marvel Select line by Diamond Select Toys click here. And may we highly recommend the Phoenix action figure based on Marc Silvestri's phoenix from New X-Men #151-154, she's hot especially in her 'fiery' paint.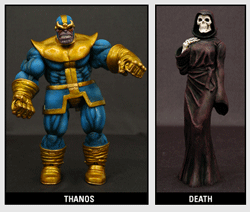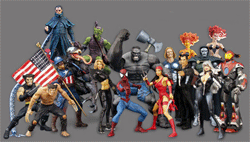 Marvel Legends Series 11 Release Date: October '05
I'm not a giant fan of ultra articulation figures such as the Marvel Legends line but I did buy the Ghost Rider figure and drooled over some of the others in the previous lines. As a fanboy though I drool when I see some of the figures coming out in wave 11. Taskmaster and Ultron two super cool villians that have needed super cool figures of their own not to mention Wonder Man, Logan who looks straight out of the Days of Futures Past story line from X-Men #141-142 and Iron Man in his Hulkbuster suit. And Just in time for House of M, Marvels big summertime event comes Scarlet Witch. So let's just say I've got my fanboy on.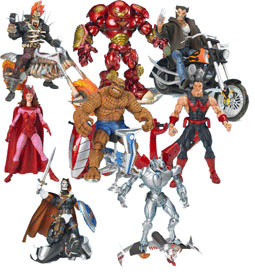 Sin City Black and White Figures From NECO Reel Toy Line
Series one comes out in April with the ULTRA HOT Nancy played in the movie by Jessica Alba, that Yellow Bastard, Manute,Gail, and Marv. The Nancy Figure looks so good I can't wait for Shellie figure based on the Super Fine Bitney Murphy (if you read this Britney I just want you to know everyone allows their significant other a celebrity list, y'know what I mean).
18" SCALE LORD OF DARKNESS (Legend)
Portrayed by the great Tim Curry in the film Legend Darkness is one of the coolest villians of all time. And now thanks to SOTA toys, you can slay all the unicorns you want with your own 18" tall Darkness figurine, or perhaps seduce your very own Lily (slurp,slurp). Also from Legend and SOTA comes the Meg Muclebones figure.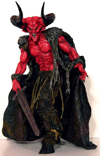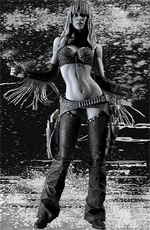 Coming May 25th The New Batgirl
From DC Direct First appearance Series 3 comes Batgirl who first appeared in Batman #567. This figure comes in a four color deluxe blister with a base and a mini- reproduction of Batman #567.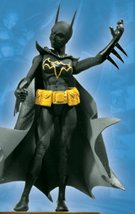 Shazam: the coolest of the Superman/Batman figures
Shazam is cool and probably the character in most need of his own series but I digress this is about the new Shazam action figure based on the art of Ed McGuinness. This sweet Shazam comes with multiple points of articulation and a Superman/Batman logo base. In Stores Aug 17th.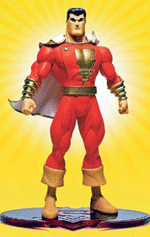 Michael Turner Zatanna, may I have that napkin to wipe the drool of my chin. Thank you.
Most every male loves the beautiful women Michael Turner draws, from Fathom to Supergirl his girls are hot! On October 5th you have a chance to own your very own Turner Girl when DC Direct brings us Zatanna based on designs by Michael Turner (duh!) this figure features multiple points of articulation (no not those ones).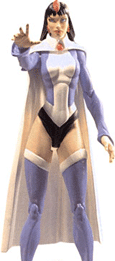 Click to enlarge
Alien/Predator Plushies from Diamond Select Toys
Shipping this month from Diamond Select Toys comes the Alien and Predator plushies. Are plushies there to get children into these classic R rated movies or are they for girl fans? Perhaps they are an excuse for males to have stuffed human slayers. I don't know how plushies got hot but I can't wait for the Freddy and Jason plushies that must be right around the corner.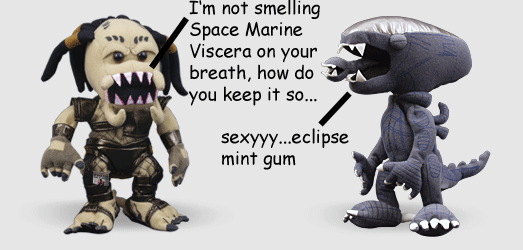 An Enheartened plea to Palisade Toys:
To the powers that be at Palisade Toys,
Please kind sirs and madams bring unto us the glory that would be the Venture Brother Action Figure set. I ask this knowing that you hold the licenses to Aqua Teen Hunger Force, Harvey Birdman Attorney at Law, Sealab 2021, and the Brakk Show and I know the Venture Brothers would be a quality license that would rake you in the dough, at least from me. I can just imagine saving the boys from the vicious and horrible Monarch with my Brock figure with knife throwing action. Or putting Dr. Venture into the Brisby Dome and sending Brock, in his car that comes with already squashed Brisby henchmen, to rescue the Doctor who comes with a whole in his wrist so you can him from the Brisby Dome Playset. Oh the wonder!
Links to cool sites: